What is a home inspection?
A home inspection is a primarily visual inspection of the readily accessible areas of the property. The Inspection is not invasive and only applies to the condition of the home at the time of the inspection.
What's involved?
Our home inspections are typically performed in conjunction with your real estate transaction. They provide information as to the habitability and general condition of your prospective new home.
What is Thermal Imaging?
Thermography is a "heat diagram" or a visible picture using the infrared spectrum of light. This imaging technique is a powerful and noninvasive means of monitoring and diagnosing the condition of buildings. Thermal images can help reveal problems about moisture (which may be conducive to mold, decay and termites), electrical system hot spots, deficient insulation, Heat/AC and duct system, structural issues, and plumbing leaks. CFM Home Inspections offers free thermal imaging scans for all scheduled home inspections a $265.00 value.
What does Infrared Certified mean?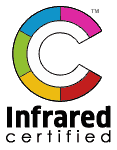 I have attained the necessary training to use my infrared camera accurately through both classroom instruction and on the job use to attain my "Infrared Certified" certification. While it is legal to own and use an infrared camera without training it is strongly recommended you only use an inspector who has been trained to do so.
What do we inspect?
We inspect the entire structure, inside and out, the drainage aspects of the property, and all of the mechanical systems (electrical, plumbing, heating/ac). We operate all appliances (excluding washers and dryers and ice makers), and we physically inspect crawl spaces, attics and roofs.
How long does an inspection take?
The average inspection takes about two to three hours. But the REAL answer is: It takes as long as it takes to inspect the property correctly.
How much will I pay for my inspection?
There is a wide range of services available in the industry and just as wide a range of experience and competency. On average you can expect to pay 325 to 375 dollars for your inspection. Don't forget we offer continual savings and discounts for our clients that can save you valuable time and money.
What is an Pre Inspection Agreement?
A signed Pre Inspection agreement is required by law before the home inspection may proceed.  A written and signed inspection contract is essential so the client knows, and has agreed to, the scope and limitations of the services to be performed. Please be sure to sign the CFM Home Inspection agreement before the date of the inspection. CFM Pre inspection agreement
When is payment due and what payment options are available?
Payment is due at the time of the inspection. Due to Insurance requirements the report can't be released until payment is made in full.
Payment options can be in the form of cash, personal check, or with Credit Card at the time of the Inspection. My preferred method of credit card payment is via Square (a remote credit card processor using your card on-site the day of the inspection)
Is it really necessary to perform an inspection for new construction?
Absolutely…it is critical that your newly constructed dwelling be inspected by an experienced professional that looks at the property in a totally unbiased way. It is much easier to have items corrected before you close and inhabit the property.